Fitness Activities
Falun Dafa Association of Australia Queensland Branch
Falun Dafa Association of Australia Queensland Branch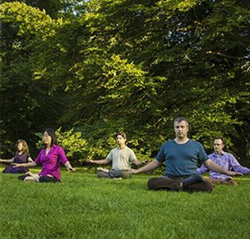 Add to favourites
About Us
Falun Dafa (also called Falun Gong) is an advanced practice of Buddha school self-cultivation, founded by Mr. Li Hongzhi, the practice's master. It is a discipline in which "assimilation to the highest qualities of the universe—Zhen, Shan, Ren (Truthfulness, Compassion, Forbearance)—is the foundation of practice. Practice is guided by these supreme qualities, and based on the very laws which underlie the development of the cosmos."
Master Li's teachings are set forth in a number of texts, among which are included Falun Gong, Zhuan Falun, The Great Perfection Way of Falun Dafa, Essentials for Further Advancement, and Hong Yin (The Grand Verses). These and other works have been translated into thirty-eight languages, and are published and distributed worldwide.
The focus of Falun Dafa practice is the mind, with the cultivation of one's mind and thoughts, or "Xinxing," being singled out as the key to increasing Gong energy. The height of a person's Gong is directly proportionate to that of his Xinxing.
The concept of "Xinxing" encompasses the transformation of virtue (a white form of matter) and karma (a black form of matter). It also includes forbearance, discernment, and abandonment—that is, forsaking ordinary human desires and attachments, and managing to endure the most trying of ordeals. Much is encompassed by the concept.
Falun Dafa also includes the cultivation of the body, which is accomplished by performing specific exercises. One purpose of the exercises is to strengthen the practitioner's supernatural abilities and energy mechanisms by means of his or her powerful Gong force. Another purpose is to develop many living entities in the practitioner's body.
Falun Dafa "brings a person to a state of wisdom and harmonious existence. The movements of the practice are concise, as a great way is extremely simple and easy."
All activities are run by volunteers and are free of charge.
How often and where we meet
Weekly at Cascade Gardens (Sundays from 8am to 9:30am, Gold Coast Highway in Broadbeach) and Pratten Park (opposite Broadbeach State School, corner of Margaret Avenue and Old Burleigh Road) on Saturdays and Sundays from 8am to 9am.
Upcoming Events at Falun Dafa Association of Australia Queensland Branch
Quick Facts About The Region
Similar Providers Nearby
Get Directions
Edit Listing
Not Correct? Tell Us ...
Extra Information
Wheelchair Access Yes
Accessible By Anyone
Access Fee No fee
Age Ranges All ages